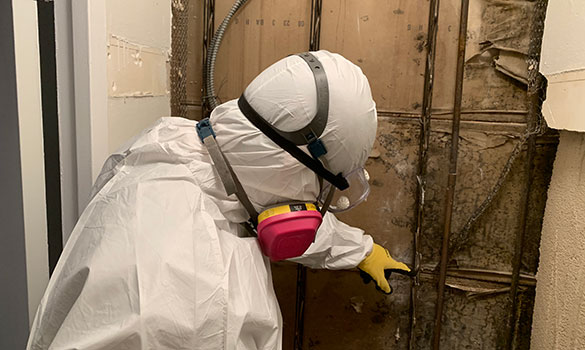 The goal of remediation is to remove or clean mold-damaged materials using work practices that protect occupants by controlling the dispersion of mold from the work area and protect remediation workers from exposures to mold.
Efforts should be made to reduce dust generation. Dust suppression methods, particularly during any cutting or resurfacing of materials, are highly recommended. Methods to consider include: cleaning or gently misting surfaces with an EPA registered anti-microbial solution prior to removal; the use of High-Efficiency Particulate Air (HEPA) vacuum-shrouded tools; or using a vacuum equipped with a HEPA filter at the point of dust generation. Work practices that create excessive dust should be avoided.
At Degmor, we are committed to innovative and cost-effective mold remediation methods and techniques to reduce the disruption of day-to-day operations of our clients. Our Mold Remediation Team is fully trained and headed by licensed experts to ensure work is completely documented and conducted in accordance with federal, state and local regulations.